About Us
Dr. William Royal
Dulce High School Principal
I am very excited to join Dulce Independent School District as the new Dulce High School Principal. My name is William Royal. I worked in Elementary, Middle and High School administration and leadership for 11 years after 26 years as a teacher in CTE, Math, and Sciences. I worked in Austria, The United Kingdom, The United Arab Emirates, and Tennessee, Utah, and Virginia.
Throughout my experiences, my focus remains on improving student achievement, attendance, and growth. I look forward to working with the community and the tribe to strengthen our efforts to support our students in preparing them for their futures through wise choices.
After reviewing the attendance, graduation, and testing data, the Dulce High School goals for this school year will be improving attendance, raising math and reading scores, and improving the on-time graduation rate. These will require everyone, students, parents, and staff to commit to following the data to guide our instructional practices, ensuring we all adhere to District policy and practices, and to continually build relationships with our students, parents, and colleagues.
To establish a sturdy foundation for our efforts, departmental and team meetings will develop our communications and relationships. Maintaining this momentum requires regular monitoring and reporting of concerns and further discussions to adjust as issues arise.
Welcome to Dulce High School!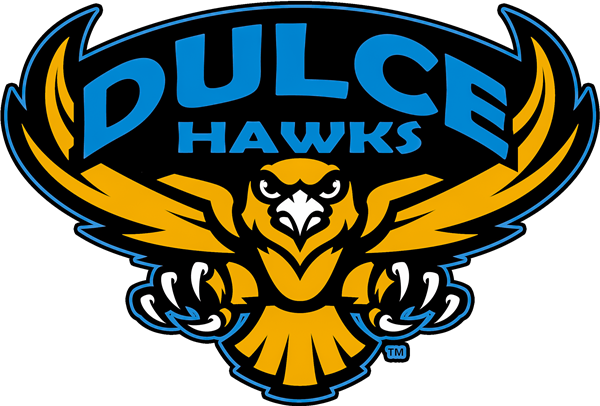 To join parents and the community in assisting students in developing their skills, so they may become independent and self-sufficient.
We take PRIDE in our school, staff and students who show personal responsibility in their daily effort.
To employ research based methods, systems and resources to ensure that all students learn a curriculum based on real-life. It is the responsibility of parents, staff, administration and the community to raise expectations of all our students, so they may become viable citizens in the future, representing the school, community and global world now and for the rest of their lives. Dulce High School is a place of learning for staff, students and the community.